Biography
A member of the Tetzlaff String Quartet since its inception in 1992, Elisabeth Kufferath has performed on the stages of some of the most auspicious halls in Europe and the United States, including Philharmonie Hall in Berlin, Concertgebouw in Amsterdam, Musikverein in Vienna, Carnegie Hall in New York, and the Library of Congress in Washington D.C. In 2015 the Tetzlaff Quartet was awarded a Diapason d'Or de l'année for their recording of string quartets by Berg and Mendelssohn.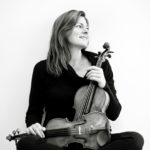 Elisabeth Kufferath's chamber music partners include Lars Vogt, Isabelle van Keulen, Adrian Brendel and Gustav Rivinius.
Ms. Kufferath has been invited to perform at Berliner Festwochen, Schleswig-Holstein Festival, "Spannungen" Heimbach, Helsinki Festival, Lucerne Festival and Schubertiade Schwarzenberg.
Heinz Holliger thinks of Elisabeth Kufferath as 'unquestionably one of the most interesting and influential string players of her generation.'
She has appeared as soloist with the WDR-Symphony Orchestra Cologne under the direction of Heinz Holliger, Ensemble Oriol Berlin led by Marcus Creed, the Munich Chamber Orchestra with conductor Christoph Poppen, World Youth Symphony Orchestra and Gerard Schwarz, as well as the Cologne Chamber Orchestra, musica assoluta Hannover and Kammerakademie Potsdam.
Elisabeth Kufferath's brilliance reveals itself in her oneness with her instrument. She imbues both ravishing harmonies and dissonant passages with verve, binding the compositional structure together with her expressively powerful virtuosity.Hannoversche Allgemeine Zeitung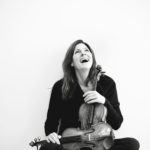 She has recorded for the Naxos, cpo, Wergo, Avi and Ondine Labels. Her first solo CD 'Libero, fragile' featuring contemporary works for violin and viola solo will be released in March of 2017 on the GENUIN classics label. A concert tour featuring works from the CD has been made possible by the generous support of the foundation Stiftung Niedersachsen.
Elisabeth Kufferath's repertoire is highlighted by contemporary works. Active as a violinist and violist, she has collaborated with composers Moritz Eggert, Helen Grime, Libby Larsen, Manfred Trojahn, Jörg Widmann and Thorsten Encke. At the Feldkirch Festival, Ms. Kufferath gave the world premiere of Jan Müller-Wieland's "Himmelfahrt", a work for solo viola written for and dedicated to her. She also gave the German premier of Elliott Carter's Figment IV for viola.
Ms. Kufferath is Professor of Violin at the Hochschule für Musik, Theater, und Medien in Hannover, Germany. Previously, she held the same position at the Musikhochschule Detmold and was a concertmaster of the Bamberg Symphony. She has been a guestconcertmaster with Camerata Salzburg, Deutsche Kammerphilharmonie Bremen, Ensemble Oriol Berlin and Ensemble Resonanz.
Both her violin and viola were built by the German luthier Stefan-Peter Greiner.